Landslip closes parts of Somerset's Strawberry Line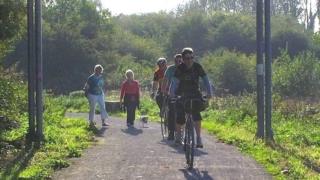 A Somerset cycle route that was reopened last week has been forced to close again following a landslip,
The Strawberry Line had been shut for 18 months for Bristol Water to lay a pipe between Barrow Gurney and Cheddar.
It was due to re-open in March, but poor weather and roosting bats delayed the opening until last Friday.
Now North Somerset Council has had to close the route between Winscombe and Ilex Lane bridge again after heavy rain on Thursday night caused a landslide.
A spokesman said: "If you're heading out to enjoy the Strawberry Line this weekend please be aware it's currently closed between the A368 Sandford and Winscombe and the Ilex Lane bridge.
"This is due to an embankment collapse following the very heavy rain on Thursday night and Friday morning."
The Strawberry Line route is part of the National Cycle Network and follows part of the old Cheddar Valley railway.
Work began on the the £27m project in October 2016, and included resurfacing work in the Shuteshelve Tunnel and new reflective white lines and cats eyes.
The railway closed in the 1960s and was nicknamed the Strawberry Line because it transported tonnes of the fruit from local farms for more than a century.