Somerset £28m unitary savings claim 'unrealistic'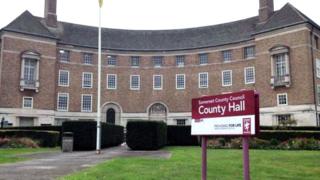 Claims that up to £28m a year could be saved by scrapping Somerset's councils are "unrealistic", according to the leaders of the county's five districts.
Last week, Somerset County Council said it wanted to consider the abolition of all six councils, replacing them with one or more unitary authorities.
County leader David Fothergill said the move would protect front-line services.
The five leaders said district services were not in danger but the county's financial position was "unsustainable".
They said the "national challenge" of demand for adult social care was having an impact in the county.
'Financially precarious'
The joint statement from the leaders of Mendip, Sedgemoor, South Somerset, Taunton Deane and West Somerset councils said: "The claim that a unitary authority is needed to protect district council services is misplaced and just plain wrong.
"The district councils believe the projected savings from establishing a unitary council suggested by Somerset County Council are unrealistic and not based on a sound analysis of our position.
"Given its financially precarious position, the districts intend to work with Somerset County Council and other partners to examine all the options for reform in Somerset local government."
Somerset County Council said abolishing the six authorities would save between £18m and £28m a year.
Mr Fothergill, Conservative, said: "Clearly it would save money - there can be no doubt about that.
"We need to research and assess how much money, but it would certainly reduce duplication and be more efficient.
"I applaud my colleagues in the districts for their comments today stating that they recognise the need for change. That is a big step.
"I have said all along that I am only starting a conversation on what that change might look like."