Somerset County Council to sell off farms to raise £8m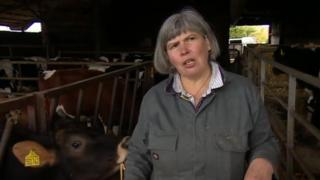 Somerset County Council is set to sell off seven more of its farms to raise about £8m for the authority.
The Conservative-run council began selling off its 62 farms in 2010.
Tenant dairy farmer Sue Osborne, whose farm is being sold off, said: "I feel as though I'm having my cultural roots removed, I feel like I'm being robbed of my cultural identity."
Once the seven farms are sold by the end of next month, the council will have just 20 remaining.
'Low income'
Conservative cabinet member David Hall, said: "We have to make the best decisions for all the council tax payers in Somerset.
"We made a decision that if farms were surplus to requirement, if we could raise the capital receipt we could then spend on other projects such as innovation centres, fixing the roads, building the schools, that was the best use of our money for the council taxpayers."
Out of the seven farms being sold off, two are expected to bought by tenant farmers and the remainder will be sold at auction.
The council is also retaining 214 acres from the seven farms for future "strategic or development purposes" and says they will be farmed in the meantime.
Ms Osborne, a Conservative councillor at South Somerset District Council, auctioned off her 300 dairy cows on Tuesday as the farm is being sold off at the end of June.
She and her husband had a 16-year tenancy at Oxenford Farm in Dowlish Wake near Ilminster.
"My parents farmed, my grandparents farmed and probably my great-grandparents did.
"It's not a job, it's a way of life and that really compensates for the really low income," she added.
She claimed the council's decision left her feeling "betrayed and let down".
"I'm appalled at the moral cowardice at the top of Somerset County Council, my values of decency, compassion, common sense, integrity don't sit well with what I see at County Hall.
"I'm not just farm homeless but politically homeless as well."
Prior to the start of the sell-off in 2010, Somerset County Council owned 62 farms.