Discovery Somerset: Fears over adult learning disabilities firm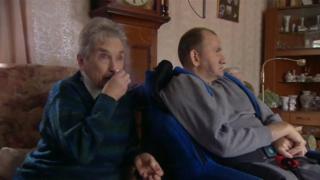 Families of adults with learning disabilities in Somerset say they fear for the future a year after council-run care was taken over by a private firm.
In April 2017, 1,200 staff and 900 service users became the responsibility of Discovery Somerset, set up by national company Dimensions.
Families say day centres are under threat of closure and staff shortages mean care shifts are left unfilled.
Discovery said quality of support had improved despite a "difficult year".
A Somerset County Council spokesman said the transfer was "about creating a service that is sustainable and modern and that takes time".
Gwynneth and Rod Philip, aged 87 and 94, care for their 55-year-old son, Richard, and rely on carers and a day centre in Taunton, which he has been attending for more than 30 years.
'Right decision'
Mrs Philip said: "Everything has got to be done for him and I rely on the staff. They are lovely but since Discovery took over everything has gone down the slippery slope.
"They said this place has got to be closed. Where does this leave us?
"We shouldn't be doing this at our age... I don't want this worry."
Discovery managing director Luke Joy-Smith said: "Many of the buildings have not been invested in for a number of years. What we want to do is an approach of co-production with the people we support to design what is needed for the future.
"We have been getting a lot right - but there has been a lot of change... but that doesn't mean we are not committed to getting it right in the future."
A council spokesman said: "We will continue to closely monitor the progress and performance of Discovery... and believe the transfer was the right decision and for the long-term benefit of those supported by the service."