Goldie appears in court via FaceTime from Thailand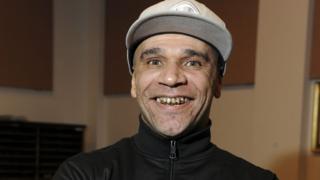 Drum and bass star Goldie appeared in court via Facetime from Thailand when a judge refused to delay the hearing.
The DJ and actor - real name Clifford Price - was charged with assaulting a security guard at last year's Glastonbury festival.
He initially entered a guilty plea by email, but this was not accepted by district judge Lynn Matthews at Bristol Magistrates' Court.
When he was contacted via video call, he confirmed his admission.
'Yep, guilty as charged'
His legal team had applied for the case to be delayed, but this was refused.
After the bid was rejected, Price sent an email saying he would plead guilty to assaulting bouncer Dennis Poole on June 23 last year.
The court heard Mr Poole was attacked after he refused to let Price's daughter Chance go backstage.
The email read: "Yep, guilty as charged."
Judge Matthews said she was not happy with the unorthodox approach and after nearly two hours of legal argument the court was told Price would plead guilty via a video link.
'Not your dear'
Price, who the court heard was currently based in Thailand, confirmed his name and address to the court after he was was contacted via mobile app FaceTime.
When asked his nationality, he said he was "very British" and he then confirmed his guilty plea, saying to the judge: "Correct my dear."
Judge Matthews said she was not Price's "dear" and that he must appear in court for sentence - or face a warrant for his arrest being issued.
Price, 52, whose address was given as Tring, Hertfordshire, admitted assault by beating.
His daughter Chance Price, 20, of Leavesden, was also in court charged with the same offence.
The court heard the case against Miss Price would be dropped once her father had been sentenced.
Both were ordered to appear before the court on May 30.
In court: Ian Parker, BBC News Online
In many years of covering court cases, nothing has matched the theatrics of today.
The legal discussion was intense and, as the day unfolded, you could see the levels of frustration rise in the courtroom.
District Judge Matthews summed the mood up when she was told by the defence lawyer that Goldie, aka Clifford Price, would plead guilty.
"I think I want to go outside and cry," she said.
As she addressed him via a FaceTime call, the judge appeared to become visibly annoyed when he referred to her as "my dear".
You can almost imagine the one-time James Bond baddie glinting his trademark golden teeth at her all the way from Thailand.
Born in Walsall, West Midlands, Goldie made his name as a music producer in the 1990s when the rave scene was at its peak.
Known for his distinctive gold "grill" - or row of front teeth - he has also appeared on screen, acting in James Bond film The World Is Not Enough, Guy Ritchie's gangster caper Snatch and EastEnders.
More recently, he has cropped up in a number of reality TV shows, including Celebrity Big Brother, Strictly Come Dancing, and Come Dine with Me.