Police inquiry over Bath school 'mock slave auction'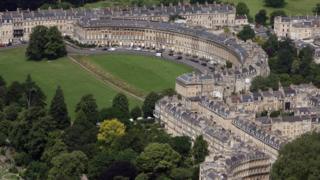 A group of school pupils allegedly chained a black student to a lamppost and whipped him in a "mock slave auction".
Police are investigating the allegation, which happened at a school in Bath, and said it was taking it "extremely seriously".
Six boys aged 15 and 16 have voluntarily attended interviews, Avon and Somerset Police said.
The incident in January was initially reported by the Bath Chronicle.
It said the pupil was prodded with sticks and called "extreme racist names".
Police are due to interview another person over the incident.
The school's board of governors has refused to expel three pupils, according to the paper.
One parent of a mixed race pupil at the school said the incident was filmed on Snapchat and circulated among pupils.
She said: "I didn't see it but I heard he was tied to a tree and prodded with sticks in a mock slave auction and they used racist language.
"I know it was a game they all played, the white boys as well, but the mock auction saw this boy being really humiliated and he was apparently panicking.
"What they did was very stupid and they don't deserve to have their lives ruined but I think the school need to be more open with parents."
A letter has been sent to parents saying the report "related to a single incident of unacceptable behaviour within the school grounds" and a full investigation had been carried out.
The letter said: "You can be assured that the school has taken this incident exceptionally seriously and that our absolute priority was, and remains, that the right path is taken for all those involved as well as the wider school community.
"Given the on-going police investigation and the need to protect all those involved, you will understand that it has been necessary to maintain confidentiality and consequently that the school does not wish to comment further."
The parent said the school had not communicated enough over the incident and was concerned there were not enough staff on duty to supervise children at lunch-time.
She added: "I know the boy concerned and he just wanted it to be forgotten about. But it is a huge school with apparently one dinner lady on duty and this is not the first I have heard of bullying incidents filmed on Snapchat."
The story has fuelled angry debate on Twitter, including from Labour MP for Tottenham David Lammy.