Cold War jet's emergency landing forced by mechanical fault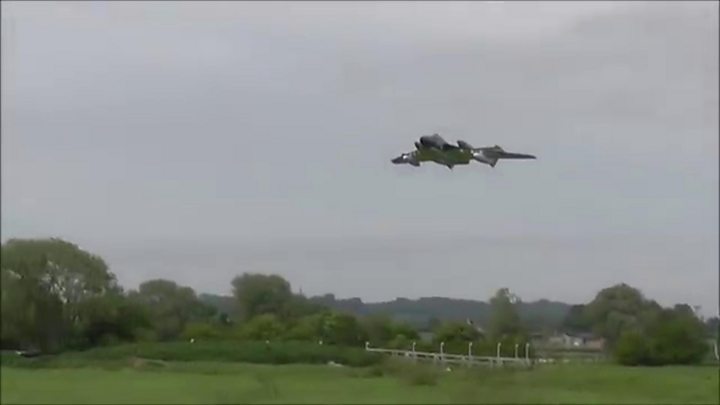 A mechanical failure forced a rare Cold War fighter aircraft to make a "wheels-up" landing, an air accident report has found.
The world's only flying Sea Vixen had to make an emergency landing at Royal Naval Air Station Yeovilton last May.
It was returning to the Somerset base after an air show when its landing gear failed. The pilot escaped unhurt.
The Air Accidents Investigation Branch (AAIB) said it failed due to a "break-up" in the hydraulic systems.
The 1963 high-speed combat jet, known as "Foxy Lady", is operated by the Fly Navy Heritage Trust.
On 27 May 2017, the plane took part in an air show at Duxford, Cambridgeshire.
On the way back to Yeovilton it was discovered the landing gear was locked in the "up" position and pilot Cdr Simon Hargreaves decided to make a "wheels-up landing".
The 60-year-old pilot shut down the left engine just two feet from the ground and the right engine at touchdown and jettisoned the canopy.
Landing on its belly, the plane careered for around 1,000m (3,280ft) along the runway, leaving a trail of material behind it, before stopping.
An AAIB report found the landing gear failed to lower because the pistons in the hydraulic pumps seized, resulting in a "mechanical break-up within the hydraulic systems".
A spokesman said: "The seizure was probably due to contamination and forensic work is continuing to identify the contaminant and its source."
The trust said the twin-turbojet fighter was now in a "period of suspended maintenance" while a "viable recovery plan" was developed.