'Ten lives saved' by Somerset snow volunteers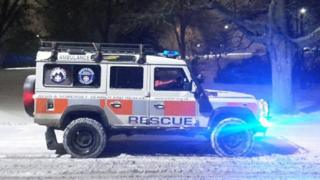 At least 10 lives were saved by volunteers deployed in Somerset to help people stranded overnight in snow, according to rescue co-ordinators.
Among them were four people whose car was completely buried in a snowdrift on the Mendips and two hill-walkers who had to be rescued from Exmoor.
Duncan Massey of Avon & Somerset Search and Rescue said the people would "certainly have perished".
Police warned that roads remained "treacherous" on Saturday.
Mr Massey was called on to co-ordinate volunteer search teams from Avon & Somerset Police headquarters on Thursday night as hundreds of cars became stranded on roads, including the A303, A358, A46 and A38.
At the height of the emergency, volunteer search and rescue teams were drafted in to move vulnerable people to places of safety, including a temporary rest centre at an Air Cadets Training Centre in Ilminster.
'Very, very lucky'
Mr Massey said: "We estimate the volunteers alone probably saved 10 or more lives by direct intervention and we almost certainly moved more than 130 people from their vehicles to a place of safety.
"Later on, Exmoor Search & Rescue had a callout to two missing hill-walkers on Dunkery Beacon who would certainly have perished had they not been found.
"I was travelling home in the early hours and the call came out that a car was stuck at the top of Burrington with four people in it and snowed in."
Mr Massey said he was able to get up the limestone gorge but was unable to get through the snow at the top but, with the help of a Land Rover driver and local farmers with tractors, he eventually found the car.
He said: "It was completely buried under eight feet of snow with four occupants in it who had been there for seven hours, so they were very, very lucky."
Elsewhere, an army of firefighters, farmers and 4x4 drivers were enlisted to get essential staff to Musgrove Park Hospital and Yeovil District Hospital.
The county's hospitals renewed their appeal for help on Saturday and Sunday.