Hunt for mobile phone in Taunton park murder probe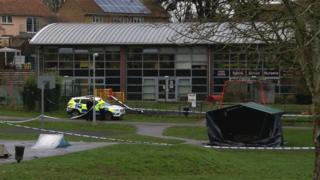 Detectives investigating the death of a woman in a park in Taunton are hunting for a discarded mobile phone, purse and clothes.
Heather Jordan, 34, had been assaulted and was found in Lyngford Park, Taunton, on Sunday morning.
A 52-year-old man from Taunton is being held on suspicion of murder.
Specialist teams are focussing on the area between Priorswood School and the railway station to find items which may have been discarded by the suspect.
Police want to trace a ZTE mobile phone, a brown and yellow-coloured purse, along with clothing which could be concealed in a bag.
They asked people to search "sheds, garages, outbuildings, and bins outside their homes" and urged anyone with information to contact them.