Somerset children's centre closures agreed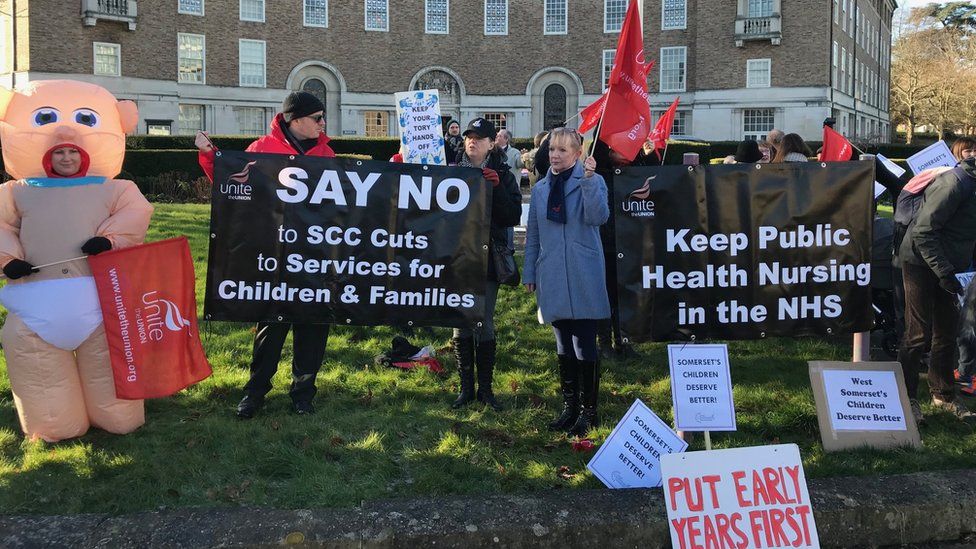 Plans to close two thirds of Somerset's children's centres have been unanimously agreed by councillors.
Cabinet members met at County Hall in Taunton to agree the plans, which form part of a shake-up of family services.
They also agreed the transfer of health visitors and school nurses from the NHS to a new Family Support Service, run by the county council.
About 40 protesters, including health workers, gathered outside ahead of the meeting to protest against the plans.
The Unite union, which organised the demonstration, said the changes risked "wrecking a great service".
Under phase one of the council's reorganisation plans, 24 Sure Start centres will be replaced with eight "family centres" which will co-ordinate work in the surrounding areas.
The remaining 16 buildings are expected to be used by nurseries.
Councillors also agreed to bring the employment of the county's health visitors and school nurses in-house from April 2019.
In a letter to the authority last month, health visitors expressed "heartfelt concerns" about the changes which would bring them under the umbrella of the new council-run service.
Unite, which represents the majority of the 200 affected staff, said it suspected a "hidden agenda of cost-cutting" was behind the changes.
Somerset County Council's cabinet member for children, Frances Nicholson, said there had been a "misconception" that the children's centre closures would result in a reduction in services.
She said: "I understand that some people are anxious, but this is about doing things better, and the next steps will be taken carefully and at the right pace."
Related Internet Links
The BBC is not responsible for the content of external sites.