Twitter reacts to Cheddar Man's dark skin and blue eyes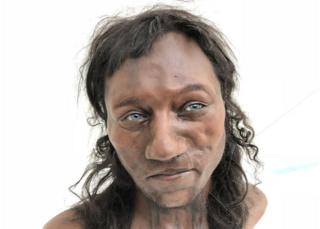 Twitter users have been reacting to news that Britain's oldest skeleton had dark skin and blue eyes.
Researchers from London's Natural History Museum extracted DNA from Cheddar Man, who lived 10,000 years ago.
The hashtag #cheddarman is trending in the UK and worldwide.
It has prompted a string of memes and inevitably cheesy jokes on the social media platform.
Jess Gofton tweeted: "If 1 in 10 of us are related to #cheddarman, does that mean we're all Mini Cheddars?"
Eva Stone questioned if he had earned the moniker because "he can't resist a goud-a time".
Jonathan Wyke insisted he should be called "Cheddar George" instead.
His rugged appearance has provoked amorous feelings among some female commentators, including writer Caitlin Moran, although others are keen to know where Cheddar Woman is, in case he gets lonely.
Tottenham MP David Lammy, who is black, said knowing of the existence of Cheddar Man would have helped him to deal with difficult questions when he was younger.
No prehistoric Briton of the age of Cheddar Man had previously had their genome analysed.
The analysis is providing new insights into the first people to resettle Britain after the last Ice Age.