Somerset health visitors fear service transfer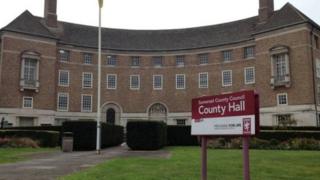 Health visitors in Somerset say they have "heartfelt concerns" about plans to transfer their employment from the NHS to Somerset County Council (SCC).
The authority announced plans to bring the public health nursing team under the umbrella of a new council-run family support service from April 2019.
In a letter to the county council, nurses said the decision felt like "a very rushed foregone conclusion".
The council said staff feedback about integration had been "positive".
Jo Gill, who wrote the letter on behalf of the public health team, said nurses felt they were being treated in a "poor way" which did "not bode well for the future of health visiting and school nursing".
Ms Gill continued: "In addition, SCC is struggling financially and has closed some of the children's centres. These closures are part of plan of cuts to the public health budget."
Alison Bell, public health consultant for Somerset County Council, said: "We have engaged with staff with the benefits of integrating... and their feedback was actually positive about that integration.
"We will take notice of the issues that are raised. Once the decision has been taken we will set up a process of staff involvement to ensure the transition is as smooth as possible."
A decision will be made by the county's cabinet on 12 February.