'Inadequate' GP service in Somerset may get NHS help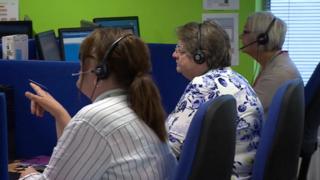 Paramedics and nurses may need to support a troubled provider of an out-of-hours GP service in Somerset.
The NHS urgent and emergency care system will be called on to help Vocare if it gets "very busy", according to the Clinical Commissioning Group (CCG).
In August, the out-of-hours service was rated inadequate and placed in special measures.
Vocare said it was working closely with Somerset's CCG to deliver "the level of services required across Somerset".
'Appalled'
Ed Ford, chair of the CCG, said: "When out of hours service starts to get very busy they are going to be required to notify us so we can ask the hospitals, the ambulance service, the district nurses to take some of that activity away from them to see that patients are seen in a timely fashion."
A fortnight ago the group said it had considered cancelling its contract with Vocare, branding the out-of-hours GP services as "unacceptable".
Derek Prentice, from the Royal College of Emergency Medicine, said: "I'm appalled but I'm afraid I'm not surprised.
"It's becoming an all too common story around the country when services that have been privatised fail and then other NHS services have to pick up the remnants of that and try to provide the kind of care and attention that patients come to expect."
The NHS requires all out-of-hours services to see 95% of emergency cases within one hour, urgent cases within two hours and less urgent cases within six hours.
While Vocare has 100% rating for handling emergency cases, its scores for urgent and less urgent home visits have fallen as low as 67% over a recent six-month period.
The firm said it acknowledged "that historically our service delivery has not met the standards expected and deserved by people in Somerset" and it remained "100% focused on the improvement plan" agreed with the CCG.