Somerset community hospital beds to close over winter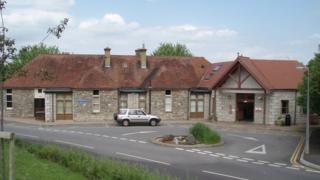 Inpatient wards at two community hospitals in Somerset will close temporarily due to staff shortages.
To compensate for the closures at Shepton Mallet and Chard, 24 beds will open across 11 other hospitals.
Liberal Democrat councillor Amanda Broom, said: "I am not overly surprised but I am completely appalled."
Somerset Partnership NHS Foundation Trust said its decision was unavoidable as it could not safely staff all its inpatient units.
Other services at the hospitals, including minor injuries units, will remain open.
Patients isolated
The wards will close by the end of October but overall bed numbers for rehabilitation and stroke patients will not be affected.
Campaigners said they highlighted the problems in Chard at a recent Somerset County Council scrutiny meeting.
They called for a full public consultation before any closures were made, and raised the issues of the poor local transport network and the social isolation faced by patients following a hospital discharge.
Ms Broom, county councillor for Chard North, said: "We made this very clear with Somerset Partnership and that's why we were assured that they would be looking at this before they would consider closure.
"This needs to be looked at to make sure we have a proper future here."
'National issue'
About 25% of registered nurse posts in the county's community hospitals are currently unfilled.
Chief executive of the trust Nick Broughton said nurse recruitment was a national issue, with 40,000 unfilled posts across the NHS.
He said: "The challenges we are facing in Somerset are no different to the ones we're facing [nationally] - but we run small units in relatively small towns where the pool of nursing staff is relatively small."
The trust has said the beds are unlikely to reopen before March.