Disputed Somerset lane is not right of way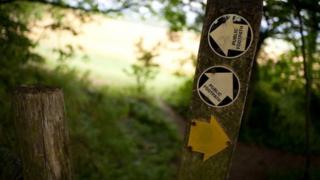 After a dispute lasting decades the Planning Inspectorate has ruled that a Somerset lane is not a footpath.
Turn Hill Lane in High Ham had been recorded as a right of way, but some local residents have been challenging this since 1959.
Following a public inquiry on 18 and 19 July the Planning Inspectorate has now ruled there is no public access.
The dispute went to the High Court before the decision was made.
Siblings Archie and Ivy Peppard, who lived alongside the route, began arguing that the lane was not a footpath when it was first formally listed as a public right of way in 1959.
They began officially challenging its status in 1973.
Both died before the final decision was made.
Ordnance Survey
Marlene Masters, 80, a neighbour, took up the dispute after their deaths.
Explaining his decision, planning inspector Alan Beckett said that there was no evidence the lane was a historical right of way and that 18th-Century documents did "not provide evidence of the reputation of the route as a public right of way".
A spokesman for Somerset County Council said: "The order to delete the public footpath from the definitive map and statement has now been confirmed by the secretary of state, and we will be publishing formal notice of this in the local press shortly.
"We will be updating our records in the coming days to show that the route is no longer recorded as a right of way.
"The Ordnance Survey will also be informed of the change in order that they can update their mapping."
A definitive map is a legal document that shows every right of way in an authority's area and the nature of the rights over them.