Next generation of wild cranes fledge on Somerset Levels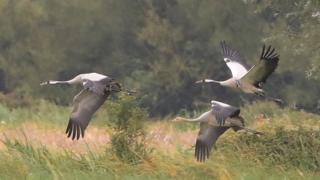 The first successful fledging of a second generation of cranes has taken place after three years of nesting attempts on a Somerset nature reserve.
Ninety-four hand-reared cranes were released at the RSPB site on West Sedgemoor between 2010 and 2014.
This year three pairs of those cranes nested and reared four chicks, conservationists have reported.
Volunteer John Crispin managed to take a photograph of the first crane to fledge, while was in flight.
Liz Antliff-Clark, volunteer project coordinator for the RSPB in Somerset, said: "The chick will continue to be reared by the parent birds through the winter.
"Its father Legend and mother Elle are both six-year-old birds.
"Two of this year's four chicks were caught, radio tagged, and colour ringed by a local volunteer team so that their fortunes can be monitored - but this one escaped the team's attempts."
The full-term incubation requires three to four undisturbed months, safe from predation. The eggs and chicks are vulnerable to predators.
The three other chicks from this year are still alive at West Sedgemoor, but have not yet been seen in flight.
In total, about 65 of the original released birds survive.