Bath University vice-chancellor responds to row over her salary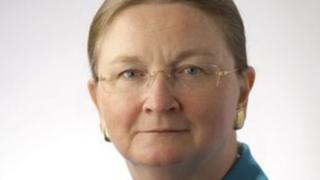 The university boss at the centre of a row over how much she is paid has said the institution treats "very seriously any complaint made".
Bath University's Professor Dame Glynis Breakwell earns £451,000 a year and is the highest paid vice-chancellor in the country.
Four MPs have quit roles at the university in protest over her salary.
Prof Breakwell said she hoped it did not "overshadow" the "esteem in which the university is rightfully held".
The Higher Education Funding Council for England (HEFCE) watchdog is currently investigating whether the way pay is awarded is sufficiently transparent.
In a statement, Prof Breakwell said the university was conducting its own review, including a "detailed evaluation" of the remuneration committee which sets her pay.
She said: "The university is committed to the highest standards of governance and treats very seriously any complaint made.
"We are also committed to confronting any issues or shortcomings in a transparent and direct manner that reflects the importance of this institution to every member of our university community."
She said that the university was "fully engaging" with the HEFCE investigation.
'Outrageous sum'
Labour's Bristol East MP Kerry McCarthy, Bristol North West MP Darren Jones, Stroud MP David Drew and Andrew Murrison, MP for South West Wiltshire, all recently stood down from the university.
They were ex-officio members of the Court of Bath University, a statutory body representing the interests of the university's internal and external stakeholders.
Ms McCarthy said Prof Breakwell's salary was not "sustainable" or "fair" while "tuition fees are going up and students are struggling".
Mr Jones said the vice-chancellor's salary was "excessive" and called for an inquiry into public sector executive pay.
Mr Drew described it an "outrageous sum of money."
University chiefs took home salary packages worth more than £250,000 on average last year, according to the University and College Union.