Man 'denied job interview due to guide dog' lands new role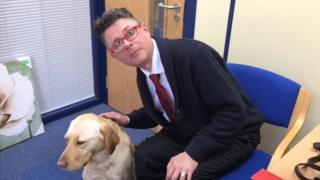 An unemployed blind man who claimed he had been discriminated against by a potential employer because he used a guide dog has been offered a job.
Glastonbury computer programmer Ian Brooks has been out of work for several years with his disability.
His story went viral on social media in February after he claimed a firm had cancelled his job interview because it could not accommodate his dog.
However, a technology firm saw his story online and has offered him a job.
London-based Conspexit develops apps for blind and partially-sighted people.
Mr Brooks said: "It still doesn't feel real. I'd just like to thank everyone out there who has been on my side."
He starts his new role at the beginning of July, and will be working remotely from home.
Mr Brooks said he was never told the name of the company who offered and then withdrew the interview in February.
Recruitment firm Vector Resourcing was acting for the employer and has not responded to the BBC with a comment.