Worle 'murder-suicide': Husband was 'anxious' about wife's health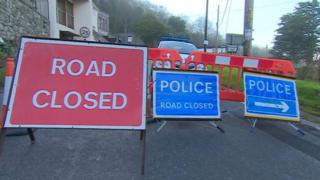 A man who killed his wife at their home before crashing his car into a tree had been concerned over her health, an inquest has been told.
Edward Furneaux, 74, of North Somerset, told his doctor the day before he was "anxious" as she was having problems breathing because of her chest illness.
Anne Furneaux, 70, died from a single stab wound to her neck, on 19 January.
The coroner ruled Mrs Furneaux was unlawfully killed, but could not conclude he intended to take his life.
Mrs Furneaux was found with stab wounds and head injuries at their home in Pilgrim's Way, Worle, near Weston-super-Mare, the court heard.
A hammer was left next to her body and a knife in a sink nearby.
Mr Furneaux was found dead in his car.
The inquest, at Flax Bourton, was told Mr Furneaux had been seen driving off from the house and "it was likely" he had killed his wife before crashing into a tree "at speed" with his seatbelt unfastened.