Freight train derailed 'near new track section'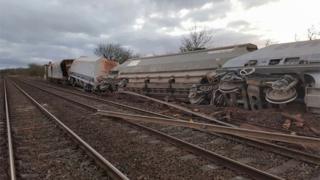 A freight train which derailed in Somerset last month left the track near a section laid in 2012, rail investigators have found.
The derailment, between Castle Cary and Frome on 20 March, caused major travel delays and took four days to repair.
An initial Rail Accident Investigation Branch (RAIB) report said it occurred close to where a set of trailing points were replaced with plain track.
The full report will look at how the derailment happened and why.
Preliminary findings also state the train, pulling 38 loaded wagons, was travelling at about 20mph when it derailed as it passed over East Somerset Junction.
Six wagons, the 24th and 29th from the front of the train, carrying stone from the Merehead quarries derailed.
The incident severely damaged 328ft (100m) of track and destroyed two sets of switches and crossings.
It also caused severe delays and disruption to passenger trains which had to be diverted via Swindon.
As part of the investigation, the RAIB will also consider how well the track was maintained, how the wagons were loaded, the condition of the wagons and any "underlying management factors".