Phoebe Willis death: Nurse struck off due to 'gross failures'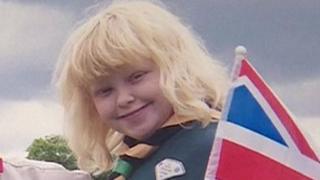 A nurse who fitted a feeding tube to a 10-year-old girl who later died has been struck off.
Phoebe Willis died at Weston General Hospital in August 2012 two days after having a tube replaced.
Carrie-Anne Nash, 34, from North Somerset, admitted that due to impaired judgment her actions contributed to Phoebe's death.
A Nursing and Midwifery Council Panel said there were "multiple gross failures" in her standard of care.
It concluded a striking-off order was the most "appropriate and proportionate sanction".
The council's report said Ms Nash's misconduct was "extremely serious", and that to allow her to return to practice "would put patients at unwarranted risk of harm and would undermine public confidence in the profession".
In the interim, Ms Nash has been suspended from nursing for 18 months during which time she has the option to appeal the striking off order.
In July last year she was cleared of manslaughter at Bristol Crown Court.
In October 2013, the Avon coroner recorded a verdict of accidental death and said there had been a lack of communication in Phoebe's treatment.
Rare condition
Phoebe, from Locking, had cystinosis - a rare genetic condition that causes damage to the kidneys, eyes and other major organs.
She had been fed by a tube since her diagnosis as a baby. This was normally changed at home by her parents, Julian and Heather Willis, every three months.
But they experienced difficulty replacing it on 24 August 2012 and were referred to Weston General, where Ms Nash fitted the tube.
Phoebe was then sent home but woke up the next morning feeling unwell. Two days later she died from peritonitis - inflammation of the tissue inside the abdomen - at Bristol Children's Hospital.