Weston's vulnerable children at risk of exploitation, BBC finds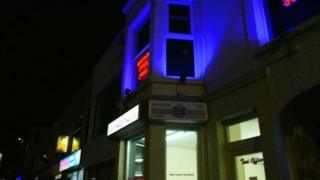 On the surface, Weston-super-Mare is a quaint Victorian seaside town. But dig a little deeper - like I have for the past year - and you find a more disturbing side.
Right in the heart of the town, known to many, is a brothel.
Butterfly's masquerades as a massage parlour. But it's not.
"So what?" you might argue; they're in every town and city in the country.
'Load of prostitutes'
But I've spoken to one young woman who said she delivered leaflets for Butterfly's when she was just 15 - using her own images on the leaflets.
Amber, 19, told me: "We had to make sure we looked ok, and that we'd basically dress like a load of prostitutes stood on a street corner - bearing in mind we were only 15."
Amber was known to social services at North Somerset Council, which knew about this activity, so I asked Sheila Smith, director of people and communities, what it did about it.
"When she came to us, we gave her both advice and very strong support around how dangerous that was," she said.
Ms Smith said at the time, she was not aware it was a brothel.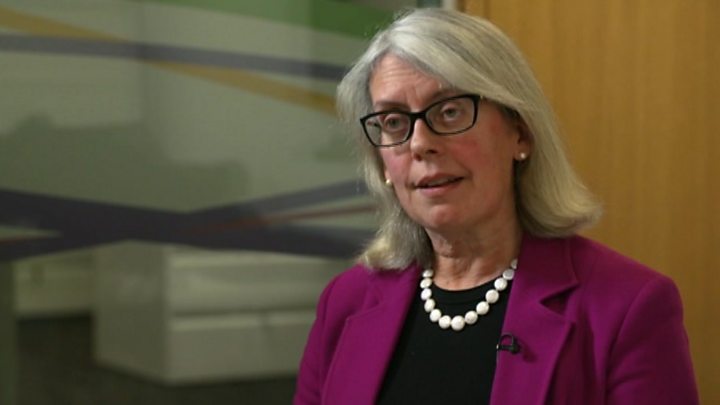 But surely the department should have been? We went undercover late last year - and confirmed it was a brothel within minutes.
Ms Smith said: "My staff passed that information on to the police in regards to an establishment that was a massage parlour using a 15-year-old to distribute leaflets.
"The police took that information and did some checks and we have had no more referrals through to us around young people frequenting that establishment."
Avon and Somerset Police said it took safeguarding extremely seriously, and found no evidence last year of underage girls working at Butterfly's.
We wanted to ask Natalie Davis, the woman who has had the lease on Butterfly's for the last 10 years, about this but she declined to comment.
But it seemed to me that Butterfly's was part of a bigger picture about what goes on under the radar in Weston.
The town has both vulnerable children and predatory men.
'I just froze'
None is perhaps more well-known than Kevin Stokes, who died last year.
Police information I've seen showed that he was reported to be involved in 35 sexual offences - including having sex with a 13-year-old.
I found one of his victims - a vulnerable teenager back then. She met Stokes when she was 14 - and moved in with him three years later.
"He had this other 16-year-old girl in his bed so we both had to share the sofa, which was when things went bad. I kind of half got to sleep and he started touching me. I just kind of froze with his hands under my top," she said.
"He went to put his hands down my trousers which is when I said, 'What are you doing?' He said, 'I'm having fun with your young body'."
She told me she reported this to social services. The woman she spoke to asked her if she wanted a shower and have her clothes washed.
"I said, 'Yes please'. So when I did see the police and give DNA I had nothing to give them 'cos I had washed everything. That kind of ruined it for me."
The case was dropped 18 months after she was assaulted because of a lack of evidence.
'Welfare a priority'
Ms Smith said: "I don't believe that it's reasonable that people would think that on the basis of what that young woman told us initially that there was going to be the destruction of forensic evidence. I'm quite clear about that."
This was not the view of a former police officer I spoke to off the record.
"At no point did the police come back to us and say, 'How absurd - you have destroyed forensic evidence'," said Ms Smith.
The council said it was proactive on safeguarding and the welfare of vulnerable children was a priority.
Police told us they took safeguarding seriously, adding that all allegations were assessed and they would always take action when they had evidence of criminality.
But it seems easy to fall into Weston's seedier side - as I found.
So are the vulnerable there getting the protection they need?
Matthew Hill's investigation into vulnerable children in Weston-super-Mare can be seen on BBC Inside Out West at 19:30 GMT on Monday and will be available afterwards on the BBC iPlayer.