Boeing says new UK base is 'no threat' to Leonardo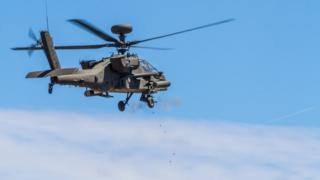 US firm Boeing says its plans for a new UK base will not threaten jobs at Leonardo Helicopters in Yeovil, despite concerns by Lord Ashdown and others.
The government recently gave Boeing permission to build a new factory in Boscombe Down, creating 1,000 jobs.
Boeing spokesman Nick Whitney said: "It is not our intention to move any work to Boscombe Down that is currently carried out in Yeovil."
Concerns remain after Boeing won a contract to build 50 Apaches last year.
'Bad faith'
The BBC understands that managers at Leonardo Helicopters are privately very concerned, as are Unite, the trade union, and Paddy Ashdown, the former Liberal Democrat Yeovil MP.
Boeing has said the new "centre of excellence" which will be built on Ministry of Defence-owned land will be used to maintain and repair its military planes and helicopters.
Mr Whitney said: "Our aim of fixed-wing business growth is going to be centred on Boscombe Down, and that doesn't affect the rotary wing activity in Yeovil."
A sought-after contract to build 50 Apache helicopters for the MoD was won by Boeing in May, in what was seen as a huge blow to Leonardo. Instead the Yeovil-based firm was awarded the maintenance side of the contract.
Lord Ashdown said: "Here they are encouraging Boeing to seriously damage the viability of Yeovil's capacity to continue to produce helicopters and maintain them and at the same time, undermine the government's own deal with Leonardo in a way which will at the very least, in my view, cause Leonardo to shout very angrily 'bad faith'."
Unite spokesman Heathcliffe Pettifer said: "We know that Leonardo lost the 50 Apache helicopters to Boeing. There are no packages of work in respect of that for the Yeovil site.
"But we were promised that there would be service and maintenance contracts and with the announcement of the centre of excellence at Boscombe Down, that looks to be up in the air now."
---
Analysis by Clinton Rogers, BBC Somerset
There's no doubt the confusion the Boeing announcement has caused is unsettling for workers in Yeovil.
Boeing's cause wasn't helped by a leaked document which implied its new base at Boscombe Down would be a European centre for maintenance of military planes and helicopters.
Now, in what some see as a "backtracking" from its original position, Boeing are saying it is not "their intention" to move any work to Boscombe Down which is currently done in Yeovil. But that stops short of a guarantee - so understandably the workers and the unions at Leonardo are nervous.
The government, too, has moved to reassure people that it is committed to maintaining a UK helicopter industry.
But the big question is, what will happen in the long term when the US giant has a foothold here? How will that impact on an aviation industry with a long and proud history in Somerset?
---