Bath development a 'significant concern' for World Heritage status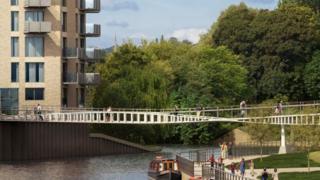 Council-led plans for a development of homes, shops and offices in Bath could cause "significant harm" to the city, according to a public body.
Historic England said proposals for a site between the A36 Lower Bristol Road and the River Avon is "incompatible" with its Unesco World Heritage status.
It is particularly concerned about the size of an office block on the site.
Bath and North East Somerset Council said it was considering the details of the plans in light of these claims.
The Bath Quays South proposals include a new office block, homes and shops, and the renovation of a Grade II listed building at a site near the Lower Bristol Road.
The site has been vacant since 2007.
In a letter to the council, Historic England warned "these proposals have the potential to cause significant harm to the outstanding universal value of the city of Bath World Heritage site".
It said the development would introduce a "discordant element within the wider townscape, impacting on one's understanding and appreciation of the Georgian architecture and planning of the city".
'Serious action'
It added that such proposals were likely to "trigger the need for notification" to Unesco, which may consider "serious action".
However, Ian Bell, of Bath Chamber of Commerce, said he did not believe the city's World Heritage status would be threatened, and said "it's absolutely critical" the development goes ahead.
He said: "It will say to the outside world, 'come to Bath, this is a place where things can really happen'."
In a statement, the council said it "is considering the details of its planning application in the light of comments received from valued stakeholders".