Weston-super-Mare 'WW2 device' detonated in controlled explosion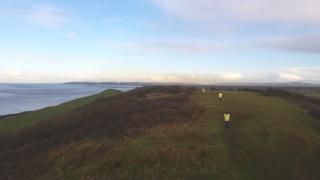 A suspected World War Two device found on a beach in Somerset has been blown up in a controlled explosion.
Believed to be a Spigot mortar, it was spotted near Weston-super-Mare after it was exposed at low tide on Saturday.
The discovery resulted in a 4,900ft (1,500m) exclusion zone being put in place and residents being advised to stay in doors.
A controlled blast was carried out by the Royal Navy Bomb Disposal Unit on Sunday afternoon.