Protests as green-belt site plans picked for Bath park-and-ride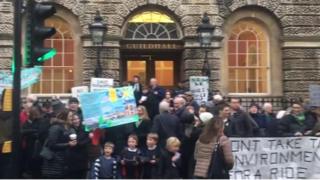 Hundreds of people have protested as a greenbelt site for a fourth park-and-ride in Bath was chosen by councillors.
Bath and North East Somerset Council (Banes) said their preferred location was "Site B" on the west side of Mill Lane at Bathampton Meadows.
Protester Christine Boyd, from the Bathampton Meadows Alliance, said she was "pretty upset" at the decision and said it was a "terrible, tragic loss".
The site, which is subject to planning, has spaces for 800 vehicles.
Banes said it would have to make "satisfactory arrangements for the purchase of the site and agreement from Highways England on access".
It added there had been a "long-established need" for a new park-and-ride on the east side of the city.
It will be Bath's fourth park-and-ride site - there are already facilities in Newbridge, Lansdown and Odd Down.