Benjamin Pople jailed for GBH after baby boy 'seriously injured'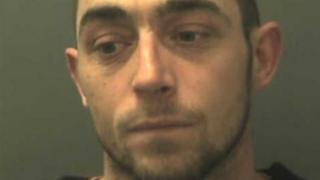 A man who attacked a baby boy leaving him needing lifelong care has been jailed for four-and-a-half years.
Benjamin Pople, 30, of Woolavington, had denied assaulting the six-month-old, who is now severely disabled, in Bridgwater in November 2015.
Pople was found guilty of grievous bodily harm (GBH) following a trial at Taunton Crown Court.
The boy's mother said her son's "lifespan would be short", adding: "I will never get my little boy back."
Police said Pople "shook the baby violently and hit his head against a hard surface" which "left him with a significant bleed on the brain, retinal haemorrhages and a fractured skull".
'Life changed forever'
In a statement read to the court, the baby's mother, who cannot be named, said: "My son's life has been changed forever.
"My life has been changed forever. I cannot put into words the devastation this has caused us.
"I wish I could turn back time but I can't. I wish I could go back to a time when he was a normal, healthy, happy little baby, but I can't.
"He will never be able to tell me how he is feeling and that he loves me. He will never be able to ask what happened to him."
Det Insp Lorna Dallimore, from Avon and Somerset Police, said: "This was a tragic incident in which a young boy has been left badly brain damaged and has been robbed of the active life which he would have otherwise lived.
"His mother has also had her life drastically changed as she will now have to provide constant care for her son."