Avon and Somerset Police's PAVA use spray in custody criticised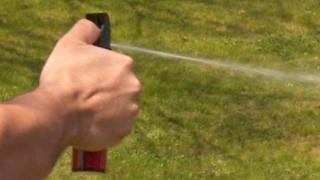 A police force has been sometimes using incapacitating spray on detainees "inappropriately", a watchdog has said.
The HM Inspectorate of Constabulary said Avon and Somerset Police needed to pay immediate attention to its use of PAVA spray on people in custody.
Supt Andy Bennett said the spray meant you could be less physical with some prisoners who are not complying.
He said: "We've done retraining and a lot of scrutiny and we've seen the use of PAVA decrease significantly."
The report, jointly written with HM Inspectorate of Prisons, also called the physical conditions of the force's cells "disappointing" but Supt Bennett said this had been dealt with.
He said: "We now have three new custody suites and a fourth older one at Yeovil will be closed next year.
"The change programme to get us into those facilities did slow us down but we're now there and I hope that issue is addressed."
PAVA spray is more potent than CS spray but it is claimed to be safer for users and bystanders.
It primarily affects the eyes causing closure and severe pain.