Somerset baby injury cases: Social workers 'must be questioning'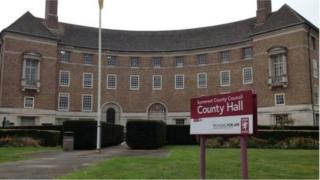 Social workers must be more questioning of parents and be better at recognising risks to children, a report has said.
The Serious Case Review was carried out by the Safeguarding Somerset Children Board (SSCB) after two baby girls were found to be injured.
The report said authorities should have shared more information with each other and been "respectfully sceptical" of the parents involved.
Somerset County Council has said it is committed to learning from the cases.
'Chaotic lives'
One of the babies was admitted to hospital with a laceration on her lip, and later the other child was found to have six fractured ribs and a fractured shin bone.
According to the report, their parents led "chaotic lives", which diverted social workers' attention away from the children.
The report also stated the parents were not "necessarily deceitful or manipulative" but social workers were "unduly optimistic" based on no evidence other than the parents' willingness to comply with care plans.
After this investigation, a meeting with different agencies was held and the babies were put into care. No-one has been prosecuted in the case.
The SSCB said it would ensure that the health and social care agencies involved implement the actions recommended in the review.