LGBT youth support group's contract withdrawn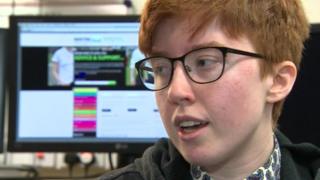 Young gay and transgender people fear a group which supports them could close after losing its council contract.
2BU Somerset was set up in 2003 to help young LGBT people deal with issues like loneliness and depression.
Service user Fraser Amos said: "I have friends with mental health problems who would be dead if it wasn't for 2BU."
Somerset County Council said it is examining how best to support vulnerable children when the contract ends next year.
The organisation currently receives an annual council grant of £20,000 but this is not being renewed in 2017 and the group said it is unlikely to find the funds elsewhere.
The council said budget cuts meant the grant could not be renewed.
Rates of suicide and self-harm are higher among LGBT young people and members say the service has helped them deal with isolation and loneliness.
Conservative MP for Taunton Deane Rebecca Pow has written to the council about its withdrawal of funding.
'Internalised shame'
Mr Amos has also launched a petition to reverse the decision.
He said: "Without 2BU I don't know how I would have coped.
"They helped me get rid of the internalised shame and self-hatred I felt."
He said closing the service would only increase pressure on the NHS further down the line.
He added: "It's not just a youth club, it's an essential support group that intervenes with young people before they get to that crisis point."
Byron Gilbey said 2BU was a literal lifeline for him.
He said: "I was suicidal and didn't want to go outside- the only social thing I went to was 2BU."
Founder Andrew Wilson said 70% of people using the service currently self-harm and 16 of them have attempted suicide.
A council spokesman said it was looking at all services in order to make savings to meet budget cuts from central government.
He said: "We are in talks with 2BU and its partners about what the future might involve.
"We are confident that the children who need help and support will continue to receive it."