Mum's List: Kate Greene's dying wishes for sons hits big screen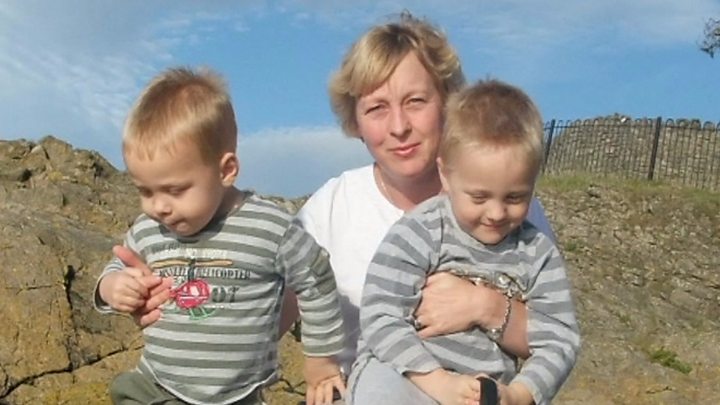 A film based on the story of a dying mother who wrote a "wish list" for her two young sons will have its regional premiere in her hometown later.
Kate Greene, 37, of Clevedon, North Somerset, wrote down her hopes and ambitions for Reef, 12, and Finn, 10, when she was dying of cancer.
Tips for her husband, St John, included to "always kiss them goodnight" and to "buy orange Club biscuits regularly".
Mum's List stars Emilia Fox as Kate and goes on general release on Friday.
The family's story hit the headlines after Kate's death in 2010.
The outpouring of support inspired her husband - known as Singe - to write a best-selling book.
He said: "Watching the film has been very emotional.
"I think the boys will watch it later on, as they are not quite ready for that rollercoaster yet.
"They have only recently got the letter their mum wrote them the night she died, and that is enough for them.
"They are really positive though and quite amazed at what we have achieved."
Mr Greene said he and the boys became very close to the cast and actors during filming.
---
Kate's Wishlist:
•Would love the boys to find their own four-leaf clovers
•Would like Reef to learn recorder or guitar
•Finn to learn the drums and electric keyboard
•Please don't go on off the beaten track holidays
•Go to as many school activities as possible
---
Mum's List, which also stars Rafe Spall as Singe, was written and directed by fellow Clevedon resident Niall Johnson - a dad the Greenes met on the school run.
Mr Johnson said: "I realised I had found a way of telling the story through their eyes and feeling I'd done the right thing by Kate."
He said filming in Clevedon was "wonderful" as the town came out in support of Mrs Greene.
He added: "People who couldn't come to Kate's funeral at the time came to the film funeral as a way of paying their respects.
"Their story is part of the town's story now and that made it very profound and added an extra layer of emotion on set."
He said many of the cast and crew had to "take a moment" while filming as they were overcome with emotion.
Reef said: "We are very proud of dad and I think mum would be as well."
Finn added: "It's brought us a lot closer together, we talk more and open ourselves up to each other more."
The regional premiere takes place at the Curzon Cinema in Clevedon at 20:00 GMT on Thursday.
---
Have you and your family been in a similar situation. Has Kate's story inspired you to make your own list? Tell us your experiences by emailing haveyoursay@bbc.co.uk.
You can also contact us in the following ways: