Treasurer who stole £32,000 from Forest of Dean church jailed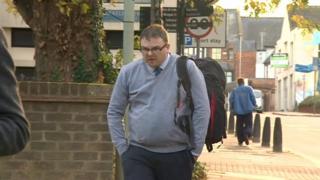 A treasurer who stole £32,000 from his church to fund his gambling habit has been jailed for 16 months.
David Peach-Miles, of Newent, took the cash from St John the Baptist Church in Ruardean in the Forest of Dean between April 2015 and February 2016.
The 37-year-old, who admitted one count of fraud by abuse of position, had only held the role of treasurer for a year.
He was also ordered to pay a £140 victim surcharge by Gloucester Crown Court.
On sentencing, Judge Michael Cullum told Mr Peach-Miles that he had "caused untold damage".
Rev Nick Bromfield from St John the Baptist church said many people had been left "feeling betrayed and devastated" by what had happened.
He said: "The money taken was generously given by local families over many decades in legacies and faithful weekly giving.
"I feel heartbroken that a person we trusted and welcomed into the church family has abused this trust and responsibility in this way.
"It will take us years to recover our financial position."