GKN closure 'betrayal to workers' says Unite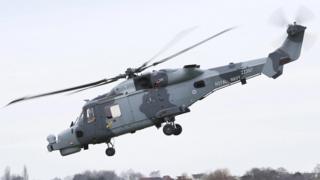 Union officials say workers who will lose their jobs at an aerospace firm have been "betrayed" by both the company and a contractor.
On Thursday GKN, which employs 230 people in Yeovil, Somerset, confirmed it would shut in 2017 after helicopter firm Leonardo cancelled a contract.
Unite regional officer Heathcliffe Pettifer said "highly-skilled jobs" had been "chucked on a funeral pyre".
The BBC has asked for responses from Leonardo and GKN in Yeovil.
GKN was contracted to build the airframes for the AW159 Royal Navy helicopters, which Leonardo assembles. Leonardo has now said it will make the airframes in-house instead.
Last year GKN made 30 redundancies and now has a workforce of about 230 people.
Mr Pettifer said workers felt let down by GKN and also claimed Leonardo had "betrayed" them as it had not carried any consultation over the decision to take the work away from GKN.
He added: "They've also been betrayed by the government who I think post-Brexit still have no idea of what a coherent long-term industrial strategy should look like.
"But more importantly for Yeovil, this government seems determined to end the UK only's sovereign capability to build helicopters."
'Huge loss'
South Somerset District Council has called for the government to highlight Yeovil in its role as the UK manufacturing base for helicopters in the industrial strategy paper that is being drawn up.
A government spokesperson said: "Although this is obviously a very uncertain time for GKN employees and their families, it is a positive step that GKN has offered to relocate those workers who wish to stay.
"We are in contact with the company and stand ready to support any affected workers."
Mr Pettifer also shared concerns over the future of the government-owned technology and tools used by GKN to build the airframes.
"If these airframes are off-shored along with the remaining work, rather than keeping that work in Yeovil, it will be a disaster," he said.
Jo Roundell Greene, Liberal Democrat deputy leader on the district council, said: "If this huge skills base leaks out and goes someplace else it will be a huge loss to Yeovil.
"Obviously the district council has been speaking to GKN and Leonardo to make sure we can do everything we possibly can to keep the skills here."
She added the council was organising an open day for GKN staff to meet other local aerospace firms offering work.