Scrapyard blaze at Radstock leaves 145 cars on fire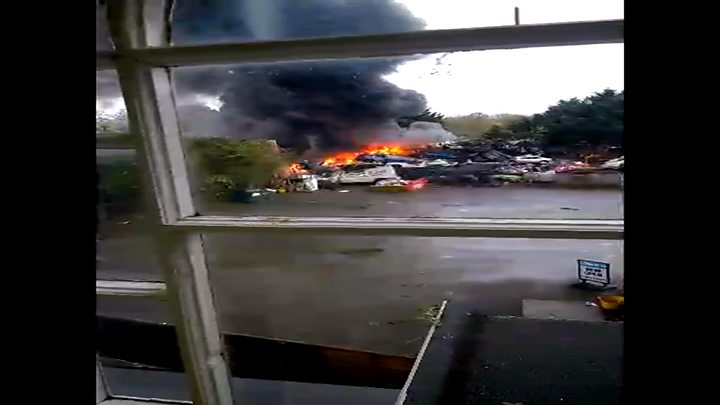 People living near a scrapyard in Somerset where 145 cars are on fire have been warned to keep their doors and windows shut.
More than 30 firefighters have been tackling the flames at Hall's Scrapyard in Combe End, Radstock.
Up to 40 properties in the area have been left without water as supplies have been diverted to tackle the blaze.
One man in his 40s was taken to hospital after inhaling smoke.
Ch Insp Kevin Thatcher said they believed staff had been working on a car when the petrol tank caught fire and the blaze then spread.
Natalya Neale, who owns The Radstock Hotel, which backs on to the scrapyard and is presently shut, said embers were falling into the hotel's garden and black smoke was covering the whole site.
'Got lot, lot worse'
She said when the blaze first started, "you could see little flames and I thought it would be all right - the fire brigade was there - but then it got a lot worse".
She added: "You heard the explosions of the cars that are in the scrapyard and it's just got a lot, lot worse.
"There's a lot of smoke bellowing out, our road is shut off, our hotel is shut."
Bristol Water said it was bringing in bowsers to provide water to those affected at Waldergrave Terrace, Waterloo Road, Lower Whitelands and The Laurels.
Avon Fire and Rescue Service said it received more than 30 calls when the fire broke out at about 11:15 GMT.
Earlier, a crane was brought in by firefighters to remove the vehicles one-by-one so crews could fully extinguish the fire.