GKN Aerospace confirms it will close down in 2017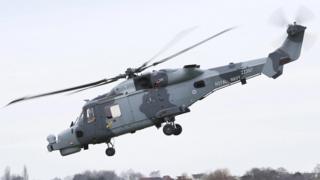 An aerospace firm in Somerset is to close by the end of next year, with the loss of hundreds of jobs.
GKN Aerospace in Yeovil has a contract to make airframes for Royal Navy AW159 Wild Cat helicopters and employs about 230 people.
Last month, Leonardo, which assembles the helicopters in the town, announced it was taking this contract in-house forcing GKN to consider its future.
Earlier GKN confirmed it could not find a way forward after exploring options.
GKN has said it would offer alternative jobs and relocate staff where possible and a staff consultation was ongoing.
The GKN spokesman added: "We have found no realistic chance of significant, long-term helicopter work in the foreseeable future.
"We have been unable to find a solution that would make GKN Yeovil a sustainable business.
"As a result, we deeply saddened to announce that we will now proceed to consult on the basis that the site will close at the end of next year (2017)."
Yeovil MP, Conservative, Marcus Fysh, said: "It's really disappointing that the management have come up with this decision, having said they were examining all options.
"I've been working hard with all the industry players and the government to try to look at keeping the skill-set together in Yeovil for Wild Cat assembly."
He added that although GKN were pulling out, Leonardo could still keep most of the workforce and skill set together when it brings the work in-house.
Earlier this week, Lord Paddy Ashdown, wrote to the government expressing concern over the lack of safeguards to prevent the technology from being moved from Yeovil to Italy once the work transfers in-house to the Italian firm Leonardo, which has bases in Yeovil and Italy.
More than 250 jobs were lost at GKN's car manufacturing branch in Telford in Shropshire in August.