Somerset caravan park shooting: Accused denies wrongdoing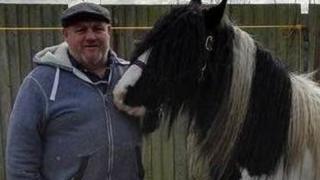 A man accused of shooting dead his neighbour in a caravan park home in Somerset has denied any wrongdoing.
Wilfred Isaacs Senior, 49, died and his son Wilfie Isaacs Junior, 22, was injured at the Chubbards Cross caravan park near Ilminster on 5 May.
Brothers Charlie, John and Billy Broadway deny murder and attempted murder.
Defending himself at Bristol Crown Court, Charlie Broadway, 24, said: "I didn't do anything wrong that day."
Earlier in the trial, jurors heard tensions had been running high between the two families, who had "fallen out", for almost two years.
Prosecutors allege John Broadway, 37, known as Dewey, gave the order to younger brother Billy, 18, to get a gun who then passed it to Charlie to shoot the Isaacs.
Charlie Broadway said he was the one who said "get the gun".
However the prosecution said that contradicted what he had told police and told the jury this was "Team Broadway" acting.
'I was a super hero'
Charlie Broadway said: "It's not murder, that's for sure."
"Are you saying these are two unfortunate accidents?" he was asked by prosecution lawyer Mister William Mousley.
Charlie Broadway replied: "Yes."
Asked if he was lying to help others, he replied: "I've told the truth. If I was going to lie, I'd tell much better lies."
Charlie Broadway said he jumped over a fence with the gun in his hands because he was trying to protect his family, especially younger brother Billy, after a row broke out with the Isaacs family.
He said: "I was scared for my family and what they might do to them. I was being a super hero."
However he did admit it was unreasonable to fire the gun.
The case continues.