Alarm fraudster Daniel Jody Rivers targeted 'elderly and vulnerable'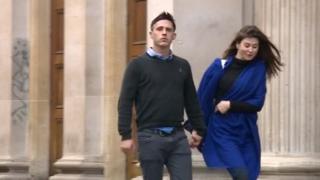 A conman who sold overpriced and badly installed alarms to the elderly has been jailed for five years.
Daniel Jody Rivers, 34, was previously found guilty of fraud, and breaching consumer protection legislation.
Bristol Crown Court was told Rivers exploited people's fears by exaggerating crime statistics and misleading people about the alarms.
Judge Michael Longman disqualified Rivers as a company director for eight years.
'Installation shoddy'
Jailing him, Judge Longman said he had sold domestic systems on the basis that they would be installed and monitored.
"It seems clear that elderly people who had no use for a monitored system were targeted," he said.
"The equipment that was installed was of good quality but the installation was shoddy."
Rivers, from Weston-super-Mare, was a director of ABHG Ltd (also known as Approved Security or Approved Home Security), and cold-called his victims across the greater Bristol area, south Wales, and Devon.
They were falsely told the company was working with local police and would install the alarms either for free or at a reduced rate for their postcode.
The trading standards investigation revealed Rivers was responsible for more than 90 alarm systems during 2013 and early 2014.
On average each victim paid between £2,500 and £3,000 for the system - which was said to be worth about £500.
In almost all the cases the installation became faulty and users were unable to contact ABHG for help.
He also falsely claimed if the alarm was activated it would call a national monitoring company and that the police would called out.
The investigation also revealed some of the "monitored" alarms were not connected to the phone line while others called a premium rate number each time the system was used, set or reset.