Wurzels frontman Adge Cutler honoured with bronze statue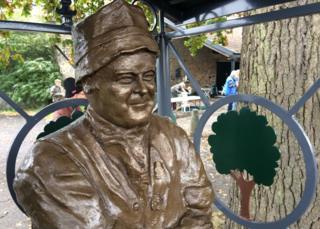 A bronze statue has been unveiled to commemorate the life of Wurzel's frontman Adge Cutler.
The tribute is positioned outside Nailsea's Royal Oak pub, where the band recorded their first record 50 years ago, his nephew John Cutler said.
The band had hits with songs including Combine Harvester and I Am A Cider Drinker in the 1970s.
Mr Cutler, who grew up in the Somerset town, died in a car crash in 1974, aged 42.
'Cider and manure'
Former manager John Miles said Mr Cutler had gone to his office in 1966 "remembering I'd looked after hundreds of rock bands".
"He said 'I'd written these songs... and I want to make some money out of them, can you help me?'.
"I'd always loved a challenge... so I rang a producer friend at EMI... and told him Adge had written these songs about cider and manure.
"I think he though I was nuts.
"We arranged to bring him to Abbey Road Studio Two, where the Beatles recorded, for the day and put all the songs on tape.
"He had enormous talent, it was such a shame he got killed and I think he would have made a very good impression up to today."