Somerset CCG to stop prescribing gluten-free food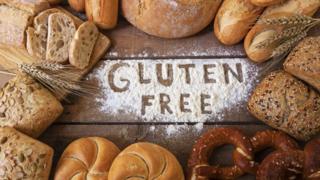 Plans to stop providing gluten-free foods on prescription are being recommended by doctors in Somerset as it is "not good value for money".
The county's clinical commissioning group (CCG) said it was spending more than £350,000 a year for about 1,000 people with coeliac disease.
It said prescriptions will stop on 1 December and people who "wish to share their views" can do so by 7 November.
Coeliac UK said the recommendation "risked longer-term costs to the NHS".
'Scarce resources'
Sarah Sleet, of Coeliac UK, said: "Gluten-free food prescribing is a low cost NHS prevention strategy.
"Good dietary adherence ensures that patients don't develop serious health complications associated with untreated coeliac disease, for which the treatment costs are likely to be much more expensive over the long-term for the NHS.
"We believe that an end to gluten-free prescribing risks longer-term costs to the NHS and exacerbates health inequalities, further disadvantaging the most vulnerable patients with coeliac disease."
Dr Ed Ford, a Minehead GP and interim chairman of Somerset CCG, said: "Following a gluten-free diet can be achieved without resorting to specially formulated foods on prescription and the continued prescribing of gluten-free products is not good considered good use of scarce NHS resources.
"Many more gluten-free products can now be found on the shelves of supermarkets, including staples like bread, flour and pasta."
Coeliac disease - which has no cure - is an autoimmune condition caused by a reaction to gluten, a protein found in wheat, barley and rye.