Jack Ellis suicide: Family learn of care 'failings'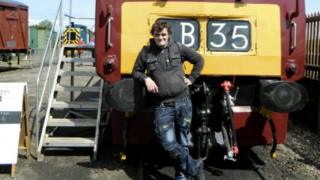 The family of a man who killed himself have learned of two main failings in his care, more than a year after an independent review was produced.
Jack Ellis, who was described as "high risk" and "vulnerable" died while living in supported housing in 2014.
The report, for case professionals, was only released after a BBC FoI request.
It said the 20-year-old had no long-term case manager and there was no meeting of everyone involved in his care in the two years before his death.
In the report some people suggested he "Mr R" [Jack Ellis] appeared to "fall down the gap" in the care system and there "is not a service for individuals with Mr R's needs".
The report also found the not-for-profit housing provider Curo described him as a "high risk individual" but this was only recognised by staff after he moved in.
Mr Ellis had Aspergers syndrome and had tried to kill himself on a number of occasions.
He moved to the housing in Weston-super-Mare in 2013, aged 19, and lived there for six months.
Mr Ellis's sister Rebecca Weeks said he had a "very unpleasant time there".
She said Mr Ellis wrote in his farewell letter the flat was "like a torture chamber" as there was drug taking and he felt unsafe.
"I feel that Jack was a bit of a parcel and I feel he was literally being passed around.
"Nobody wants to hold on and say, 'wait a minute we could have done a better job here and we didn't... and we're sorry'," she said.
In a statement Curo, said it was "committed to all its housing schemes".
North Somerset Council said it had carried out all the report's recommendations.
The document, which falls short of a full Safeguarding Adults Review, was undertaken by North Somerset Safeguarding Adults Partnership.
As it is only written for professionals involved in the case, a Freedom of Information Act request was used to obtain a copy.