Section of Birnbeck Pier to be demolished for safety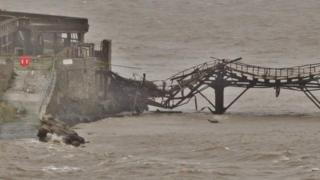 Part of a Victorian pier - the only one in Britain to lead to an island - is to be demolished.
The north jetty at Birnbeck Pier in Weston-super-Mare collapsed into the Bristol Channel during storms last December and has been unsafe since.
North Somerset Council planners have granted listed building consent for the deck and legs to be removed.
Campaigners had called for the historic structure to be repaired, rather than pulled down.
The Grade II* listed pier was opened in 1867 but shut in 1994 and has since fallen into disrepair.
The north jetty is Grade II listed and is believed to have been built in the late 1860s but was extensively repaired between 1903 and 1905.
Celebrities including comedian John Cleese and actor Timothy West had backed a campaign to save it.
---
Birnbeck Pier history
First attempt to build a pier at Birnbeck was made in 1845 but abandoned after financial problems
Work on a new pier began in 1864 after a campaign to raise £20,000 and it opened in 1867
Fire destroyed most of the structure on Boxing Day in 1897 with a replacement built eight months later
During World War II, Birnbeck was taken over by the Admiralty and used for secret weapons testing
In 1990 the pier was severely damaged in a storm and it closed four years later
Source: Birnbeck Pier history
---