Somerset local authorities merger to go ahead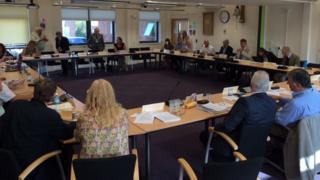 Two district councils in Somerset are to merge in a bid to save money.
At a meeting on Wednesday evening, West Somerset councillors voted 21 to four in favour of a merge with neighbouring Taunton Deane Borough Council.
West Somerset is England's smallest district council. Taunton Deane councillors had already voted last month for the plan to go ahead.
It means a new single local authority will be formed covering the two existing districts.
West Somerset's Conservative leader Anthony Trollope-Bellew called it a "very sad day" but the "only way to protect local services".
The two authorities have been in a partnership and shared some staff since 2013.
The idea had divided opinion, with some seeing it as a threat to the council's powers, while others said it would save money which could be spent on services.