Lufton Roman villa underfloor heating 'was in wrong place'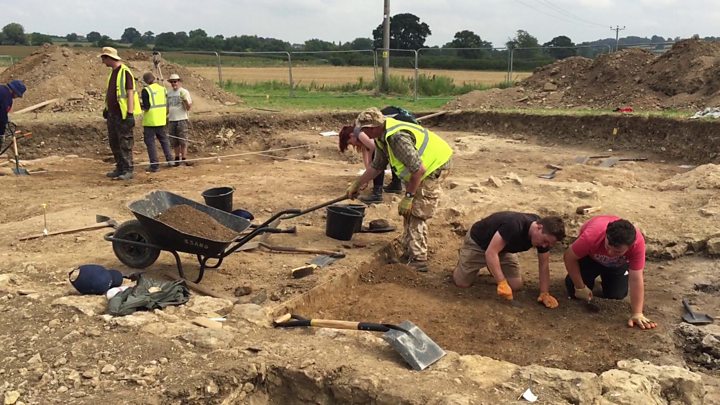 Archaeologists excavating a Roman villa have found it had underfloor heating in an unexpected part of the building.
The site at Lufton near Yeovil was first excavated in the 1950s and 60s by local archaeologist Leonard Hayward.
Project leader Dr James Gerrard, said: "If you were living here in the 4th Century having underfloor heating is at the top of your priorities."
The dig also aimed to precisely locate the Roman villa using GPS and surveying techniques which it has now achieved.
Underfloor heating in ancient Roman architecture is also known as a hypocausted room.
The floor is built on top of piles of tiles so hot air from the furnace can flow underneath the flooring to heat the room.
"We knew the building had hypocausts but this particular hypocaust is in the wrong place and it's part of an earlier phase to the building that we didn't know was there," added Dr Gerrard.
"This was a high status well-appointed building so not only does it have mosaic pavements and painted wall plaster, you've got underfloor heating," he added.
"You've got a hypocausted semi-circular room.
"It's got the piles of tiles in it which supported the suspended floor and other features that we're hoping to become another hypocausted room."