Stranded dolphin rescued on Burnham-on-Sea beach dies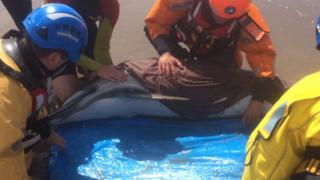 A dolphin rescued after it became stranded on a beach in Burnham-on-Sea in Somerset has died.
The animal became beached on Berrow Beach on Tuesday and RNLI lifeguards helped to keep the animal breathing and afloat in shallow water.
It was carried into deeper water and swam away, but beach walkers later spotted it struggling in the surf.
Attempts were made to help the weak and malnourished animal, but vets and the RLNI made a decision to put it down.