Funeral director Alison Pople stole £14k charity donations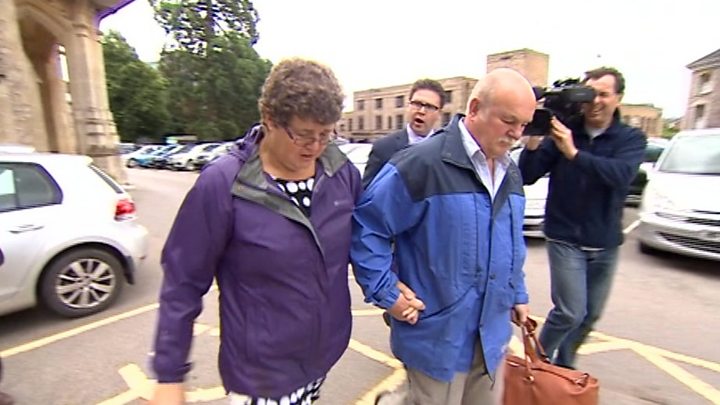 A funeral director who stole money donated by grieving families to charities in memory of their loved ones has been handed a suspended sentence.
Alison Pople failed to pass on donations worth £14,000 to good causes including Help for Heroes, the NSPCC and a local hospice.
The 50-year-old also forged thank you letters from the charities to cover up her crimes, Taunton Crown Court heard.
Pople, from Cheddar in Somerset, was given a 15-month suspended term.
She had admitted fraud and was also ordered to pay back around £8,000 to the charities deprived of donations.
More on this and other stories
Prosecutors told the court the crimes related to 46 funerals which took place between 2011-2014.
Pople told police her business had been in financial difficulty at the time of the offences.
Her lawyer told the court the money was only intended to keep the firm afloat and not for personal gain.
Avon and Somerset Police said it was impossible to know exactly how much money she failed to pass on but thought it to be at least £14,000.
Judge David Ticehurst said Pople, who wept during sentencing, had abused the trust of grieving relatives but there was no benefit in sending her to jail.
Several of the families affected by the defendant's actions shook their heads in court as the sentence was passed.
'Very hurtful'
One of those affected by Pople's actions was a distant relative.
Diane Pople, from Highbridge, lost her husband Burt to lung cancer in 2011 and wanted funeral donations to be given to the Highbridge Medical Centre.
The surgery never received the funds.
Mrs Pople said: "I really don't know why she did it, it is very hurtful, particularly as she is family.
"She is a lovely person and we always got on well but I just don't know why she would want to do anything like this.
"Who can you trust if you can't trust your funeral director?
"Burt would be absolutely devastated."
'Evil'
Pauline Redman, from Mark, near Weston-super-Mare, asked for donations to be passed to charities and hospice care centres following the deaths of her brother and sister-in-law.
She was sent a fake letter by Pople which made it look like money was received by Weston Hospice Care.
She said: "It is unbelievable. I actually think what she did was evil.
"She was in a position of trust and it was only a long time afterwards that we found out what she had done."