Pilot clocks up 100 hours on World War Two Swordfish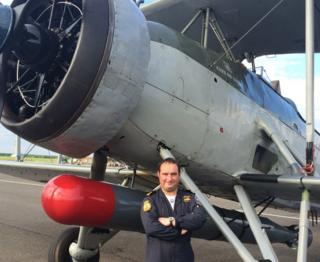 A pilot has clocked-up 100 hours of flying at the controls of the only surviving Fairey Swordfish in the world which first flew in 1941.
Lt Simon Wilson hit the landmark at the weekend while travelling between air displays at Newcastle airport.
He said it is only allowed to fly a limited number of hours per year.
He has been flying the Swordfish since 2011 alongside his day job as a helicopter instructor at the Somerset-based 815 Naval Air Squadron.
"It's a great privilege to fly such an iconic aircraft and to have achieved 100 hours is something I am very proud of," he said.
Swordfish W5856 was grounded in 2003 after corrosion was found in her wing spars.
A replacement set of wings were made by BAE Systems which were delivered to the Royal Navy Historic Flight in 2012.
The aircraft re-joined the display circuit in 2015.