Duke signs petition to save crumbling Wellington Monument in Somerset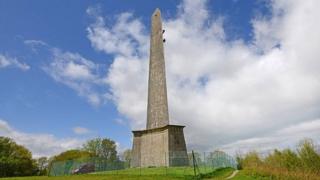 The 9th Duke of Wellington has signed a petition to restore the crumbling Wellington Monument in Somerset.
Charles Wellesley has agreed to back MP Rebecca Pow's parliamentary petition to save the three-sided obelisk, believed to be the world's tallest.
The 175ft (53m) landmark was built in 1817 as a tribute to the 'Iron' Duke of Wellington but has been fenced off since 2005 due to falling stone debris.
The Taunton Deane MP is due to hand the petition to parliament next week.
The monument, on one of the highest points of the Blackdown Hills, was put up as a tribute to the Iron Duke's military achievements at the Battle of Waterloo.
"It was originally on family land and has been for many, many generations a beacon and a symbol looking over the surrounding countryside," the duke said.
"So I very, very much hope it will be possible to see it restored by or during the bi-centennial year, next year."
Ms Pow, said "architecturally and historically" the value of the Wellington Monument "cannot be understated".
She said: "I fully welcome his support for this campaign and it is an honour to have his signature on the petition.
"I look forward to working closely with him in the future for the good of Wellington and all those who treasure this iconic landmark."