Second human foot found in back garden in Bath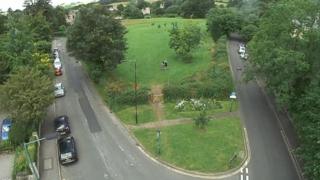 A second human foot has been discovered close to the spot where another was found just months ago.
The left limb was found in undergrowth in the back garden of a property in Weston Park, Bath, on Monday morning.
Police said they were linking the find to another left foot, which was found in a park in February, due to their "physical similarities" and close proximity of the discoveries.
The first was probably a teaching aid, detectives said.
It was discovered by dog-walkers on top of bramble bushes in Weston Park East, just a few hundred yards from the second find.
Forensic examinations found it was "probably an anatomical specimen" from a medical or educational establishment and police concluded no crime had been committed.
---
What we know about the first foot found in Bath
Found on 19 February a few hundred yards from the latest find
Severed just above the ankle
Believed to have been an adult's foot but no way of knowing sex, age or ancestry
Initial tests proved the foot was human, but subsequent forensic examination found very little DNA
A Home Office pathologist said the item's genetic material appeared to have been "killed by something"
A forensic anthropologist at the Natural History Museum, said the foot had probably been "fixed" or preserved with chemicals and was either a medical, anatomical or museum specimen
---
Det Insp Paul Catton said: "We carried out a full and thorough investigation into the discovery of the first foot and the same will be done for this one.
"We will be looking to confirm beyond all reasonable doubt that the two discoveries are linked and if so, whether the most recent find offers any lines of inquiry which can be taken forward.
"Our earlier investigation exhausted all possible lines of inquiry and we were satisfied that no crime had been committed."
'Disturbed by find'
Weston Park is around a quarter of a mile from the Royal United Hospital (RUH).
Howard Jones, RUH director of estates and facilities, said: "We're disturbed to hear of this second find but have not been formally contacted by police.
"We co-operated fully with their investigation into the discovery of the first foot and will do so again if required."