Positron scanner at Bath's Royal United Hospital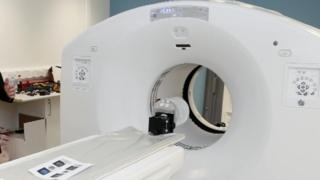 A £1.2m Positron scanner to treat cancer patients has been officially unveiled at the Royal United Hospital in Bath.
The PET-CT scanner is the first one to be permanently installed at an NHS hospital in south-west England.
Bath Cancer Unit Support Group (BCUSG) and its Trowbridge branch paid for the equipment after a five-year appeal.
The scanner gives more accurate images so can aid doctors in the diagnosis and treatment of cancer and dementia.
Cookery writer and broadcaster Mary Berry, who lives in Bath, officially unveiled the scanner.
Chairman of the BCUSG, John Carter, said: "It can help in terms of where within the body the tumours are located, you can see how those tumours are reacting to particular types of treatment and in fact statistics show that with regards to PET CT scans in a third of cases treatments are changed."
Previously patients relied on mobile scanners including one that went to Bristol or travel to a teaching hospital to access this type of scanner.
The scanner will be used in four main ways: the diagnosis and monitoring of cancers, the planning of radiotherapy treatment, testing new cancer drugs and the early diagnosis of Alzheimer disease.