Collapsed bus firm Webberbus investigated by police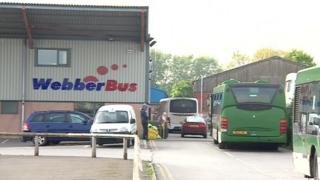 An allegation of financial irregularity at the collapsed bus firm Webberbus is being investigated by police.
The company, which was set up 50 years ago, was one of Somerset's biggest bus operators but folded in May.
At the time Webberbus blamed financial difficulties when it stopped running 24 services across Somerset.
Somerset County Council referred the case to the police. The BBC has contacted the former managing director for comment and is awaiting a response.
David Fothergill, the council's cabinet member for Highways and Transport, said: "We cannot give any detail, but I can say that following Webberbus ceasing to operate we have referred a case to the police.
"I can also confirm that no member of county council staff has been investigated or implicated in this case.
"We cannot comment any further but will help with the investigation as required."
When the bus firm went into administration, the county council and other bus operators stepped in to cover the routes run by Webberbus.
An Avon & Somerset police spokesman said: "An allegation of financial irregularity involving a transport company has been reported to our economic crime team who will be looking into the matter."